New Kittens On The Way!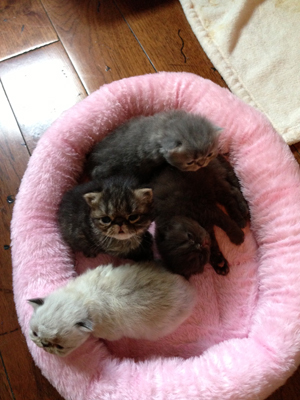 Welcome to Sullivan Blu. All of our Spring 2015 kitties have left. We expect a new summer batch at the end of July, 2015, and two more litters are expected in September, 2015, so please stay tuned!
If you are interested in one of our upcoming litters, please visit our Contact page and fill out the information form.
Want to Know More About Us?
Please visit out our About and Queen & Tom pages for information about our cattery, and our adult cats, and stay up to date on the latest happenings at the Sullivan Blu Cattery by visiting our News section!
We Love Happy Customers!
Check out our Testimonials page for photos, bios, and kind words from many of our satisfied clients!
Questions? Comments?
Please visit our F.A.Q. page for a list of commonly asked questions (and answers!). Also visit our Contact page, to ask us any questions, make a reservation for a kitten, or just to drop us a line!
Ready to add one of our kittens to your family? Download a copy of our Purchase Agreement here: